"Bag lady you gon hurt your back/ Draggin' all them bags like that!"

Leave it up to Erykah Badu to have you feeling equally appreciated and called out. A stroll down Mama's Gun memory lane left me feeling both vulnerable and introspective. Just when I'd healed one aspect of myself, here came another vying for my attention. Badu's raw lyrics pierced right through me like a skewer.
"I guess nobody ever told you/ All you must hold onto/ Is you, is you, is you"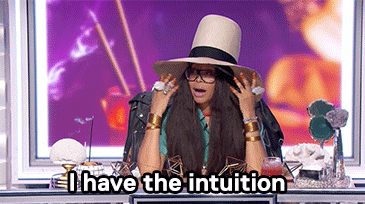 Badu's '00 masterpiece poetically put into words my disappointment, envy, worry, self-confidence, hopes for the future, and lessons learned. By the end of the second to last song, Time's A Wastin', I was in tears reminiscing on how I'd slipped back into old habits:
Ruminating on negative thoughts when I should've been sleeping
Having great ideas with no action behind them
Stalking Perusing my old flame's social media
Worrying over a quickly dwindling bank account
Putting other people's opinions of myself over my own
Does any of this sound like you? Actions such as the former keep us trapped in negative cycles; and the stresses of everyday life make us forget that we require healing. Healing is a vital part of our existence. Muscles heal after workouts. Flesh heals after lacerations. Moreover, we need to assist our hearts and souls with healing after emotional and spiritual battles. Luckily, we have a powerful celestial being present to aid us in the process: The Moon.
Sir Isaac Newton discovered that the Moon controls the Earth's ocean tides with its gravitational force. The Moon has also been credited with influencing other activities such as fertility, behavior, and emotions. Historically, the Moon has served as a guiding light for indigenous people, such as the Algonquin tribe, who used lunar cycles to track time and seasons. At the peak of its illumination, a Full Moon symbolizes a time for release. In the spirit of self-love, self-care, and all that other good stuff, I want to share a few ways in which you can benefit from the Full Moon's energy, restore balance, and release what no longer serves you.
1: Discover what zodiac sign the moon is in.
The zodiac sign serves as a compass to help direct your energy. For example, if the Full Moon is in Aquarius (an air sign), your focus would be best utilized on activities that rest and heal the mind. Each zodiac sign is ruled by an element (Earth, fire, water, air). The element tells you the area of focus.
Earth

🌍 (Taurus, Virgo, Capricorn)
Embrace Practicality + Goals
-Declutter/ Deep clean your space
-Donate or give to charity
-Get outside/ Connect with nature
-Cross things off your to-do list

Air

🌬 (Gemini, Libra, Aquarius)
Mentality + Gain Knowledge
-Research a topic
-Meditate or chant
-Read
-Create Art

Water

🌊 (Cancer, Scorpio, Pisces)
Emotional Balance + Connection w/Others
-Spend time with loved ones
-Spend time alone doing what you like
-Take a nap
-Do water exercises

Fire

🔥 (Aries, Leo, Sagittarius)
Igniting Passion + Taking Action
-Dance! Move your body!
-Show compassion for self & others
-Re-visit a hobby you love
-Write down your mission
Light a candle or incense and say thank you to the universe for being your ally. Don't forget to include a prayer for those who came before you. If you think your life is hard just look back at what your ancestors endured.
"Silence isn't empty, it's full of answers."

-Unknown
The merging of your inner and outer selves happens when you give the present moment your fullest attention.
Wearing crystals on your person can promote positive energy flow. Crystals have the ability to shield you from negative energy as well as dispel it from your body and mind. Recharge them during Full Moons to keep their energy fields clear.
Pretty simple, huh! For more healing tips, check out my article Release Toxic Energy Now! Let me know in the comments how these tips worked out for you or share any of your go-to rituals.
July's Full 'Buck' Moon is also helping to usher in Leo Season! Make it Hot [in my Megan the Stallion voice] with my King of the Jungle inspired playlist "Wild Side 🦁 🔥" available on Spotify & Apple Music!!!
Follow ya girl on Apple Music, Spotify, and Facebook. We outchea!